Eye Protection

Clear or Gray Shaded Safety Glasses & Replacement Lens - General purposes for indoor application that require impact protection.
Provides 99% protection from harmful UV-A and UV-B rays.
Hearing Protection


Disposable Ear Plugs
Comfort and high level of noise reduction. Unique, non irritating PVC foam gradually expands and conforms to ear canal. Cylindrical shape protects better than taper style plugs. NRR 29dB. Washable and 100% recycable. One pair per Pak, 200 pairs per dispenser box.



Reusable Ear Plugs
Earplugs are tapered for easy insertion into any size ear canal.
Soft foam and non-irritating, smooth surface provide lasting comfort.
Packaged in convenient individual use packets.
Longer length makes insertion and removal easy.




Ear Muff Hearing Protector
Ear Muff Noise Reduction Rating 20 dB Over the Head/22 dB Under the Chin/22 dB Behind the Head 3-Position Reinforced Headband Large Ear Cups Foam Cushions Color Blue, Red
Color Blue, DARK RED DielectricYes FeaturesFoam Filled Cushions, Pivoting Earcup ItemEar Muff Meets/ExceedsANSI S3.19-1974 Noise Reduction Rating NRR (dB)20/22/22 Type3 Position Weight0.60

Hand Protection
Work Gloves, Leather & Jersey Knit

Dot Palm (2 sided) String Knit Gloves
Double Leather, Safety Cuff Glove
Brown Jersey, Red Lined Gloves

Respiratory Protection

Respirator 3-M 8210
Workplace applications include grinding, sanding, sweeping, bagging and other dusty operations. This respirator features 3M's Advanced Electret Media (AEM), welded strap attachment, soft nose foam and adjustable nose clip to help provide a custom fit and secure seal.


Respirator 3-M8511
Cool, dry comfort and protection provided by a 3M Cool Flow™ exhalation valve and adjustable M-nose clip. Provides a custom fit and secure seal which reduce the potential for eye wear fogging and contribute to increased wear time. Suggested Applications: Grinding, sanding, sweeping, bagging and other dusty/hot operations
Hard hats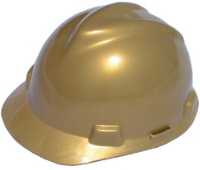 These hard hats are the number one hard hat for most industrial applications. The shell is made with a durable injection-molded, high-density polyethylene. These MSA hardhats come with either the Staz-OnTM (pin-lock) suspension or the Fas-TracTM (ratchet) suspension for superior head protection. In addition, this MSA cap is designed with an accessories slot to accommodate many add-on features.